The pandemic has brought about many changes to our lives, but perhaps the biggest is the increase in remote working and events. As a result, hybrid events (those that combine a "live" in-person event with a "virtual" online component) have become much more widespread now. Find out more about some of the greatest benefits of using hybrid events in your company.
1. Increased Reach
One of the benefits of hosting a hybrid event is that your organisation has a greater reach. When you host a traditional event at a physical location, you're effectively limiting the number of people who can attend, as well as making it much harder for people travelling from other cities or countries to sign up. A hybrid event, however, provides a solution to this, as people who can't visit in person can attend remotely instead. This way, more people get to access the event than would have previously and those who still wish to attend in-person can do so, keeping everyone happy
2. Greater Engagement
By embracing hybrid meetings and events, and including as many remote features as possible, there will be greater engagement from everyone involved. If you're hosting a hybrid event such as a corporate get-together or a meet and greet session with members of the organisation, offering an element of remote interactivity (such as a live chat feature or a question and answer tool) might even increase engagement from attendees, as they'll probably feel more comfortable getting involved online than in a live setting.
3. Lower Travel Costs
Sometimes, one of the major considerations when planning a large in-person event is the feasibility of people attending. People have to pay for fuel or train tickets to get there, and then pay for parking or even a hotel. In some cases, this is a cost they simply can't afford, preventing them from attending altogether. By hosting a hybrid event, people have the opportunity to decide between attending in person or virtually. People in the local area can attend the conference in person whilst those from further afield can still take part from the office or their own home, saving businesses a lot of money.
4. Gain Valuable Data
One of the benefits of more effective hybrid events management is that you gain valuable data for future events. This includes statistics surrounding the proportion of people attending in person in comparison to attending remotely. You can then plan future events in line with this information, building online and physical components that work closely in tandem with one another. Informed decisions are essential for event planning, and hybrid meetings and events provide hosts with plenty of data. This doesn't just relate to attendance either. You can drive engagement with all the different areas of your event and track it through a good platform's analytics.
Try Connect My Event
If you're considering hosting a hybrid event, get in contact with the team at Connect My Event today to find out more about how you can host your next conference or meeting in the online domain. It's even possible to build your company profile with a free login and try out features without the need to go live and invite your guests.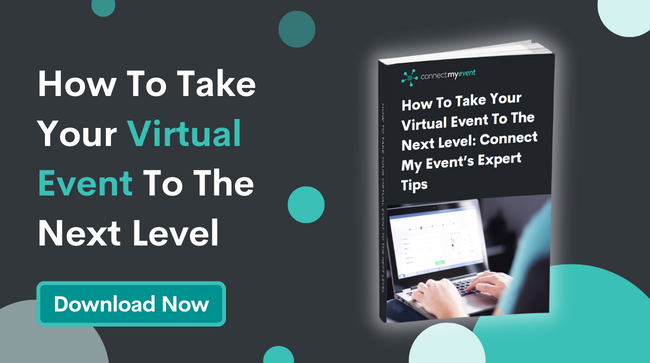 Image Source: Canva