In all industries and sectors, hybrid events are becoming increasingly popular. While digital events were once a necessity due to COVID-19 restrictions, more and more businesses and organisations are discovering the benefits of hosting hybrid events.
What Are The Benefits Of Hybrid Events?
Hybrid events are beneficial as they allow more individuals to participate in or attend an event without physically having to be there in person. Travel and time restrictions, such as having to travel on a long-haul flight, that may have previously prevented some individuals or businesses from becoming involved in an event are eliminated if they are able to attend an event virtually.
How To Host A Hybrid Event
When hosting a hybrid event, in order to ensure it is successful it is essential both the virtual and in-person audiences are offered the same level and quality of experience. Whether an attendee or participant is attending physically or virtually they should receive the same amount of value from the event. Tips for how to host a virtual event include:
1. Choose Event Times Carefully
Hybrid events can allow individuals from around the globe to attend events in different countries. This, however, means that time zones must be taken carefully into consideration when creating a schedule for an event.
Look at the locations of your attendees and try to pick a time that suits all locations. If this is not possible, consider running some talks and shows twice or filming them so individuals across the globe can watch them at a suitable time.
2. Plan Creative Content
Think about what forms of content will be engaging for both in-person and virtual event attendees. For example, using physical props during a talk may be difficult for online attendees to view properly.
Research what forms of content your desired target market is currently engaging in, e.g. images, videos or long-form content such as blog series and consider how you could include this in your event both virtually and physically.
3. Set Scaled Ticket Prices
If you're hoping to attract as many virtual attendees as possible, consider offering a lower ticket price for virtual access. If you've sold a high volume of virtual tickets remember to ensure you have the server capacity to handle the increased traffic during the event.
To also encourage in-person attendance, consider providing an incentive, such as a gift bag or unique promotional item to in-person attendees to ensure you sell out of physical tickets also.
4. Use Connect My Event's Modular Platform
When hosting hybrid events, it is invaluable to work with a reputable organisation to ensure your hybrid event is successful and seamless. Connect My Event offers a customisable platform for organising and hosting hybrid events. Whether you're planning a conference, online broadcast, product launch or another important event, Connect My Event offers all the features you need. On the platform, you can sell tickets, collect payments, host live streams and much more.
Contact Connect My Event today
If you're looking for support in coordinating, hosting or planning an upcoming hybrid event, contact Connect My Event today to book a free demo and learn more about our custom platform for online events. Or create a login to try out building a virtual event yourself. You can even host a small test event using Connect My Event's free package.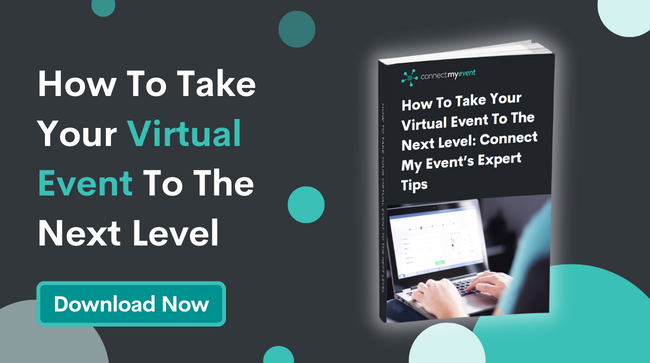 Image Source: Canva